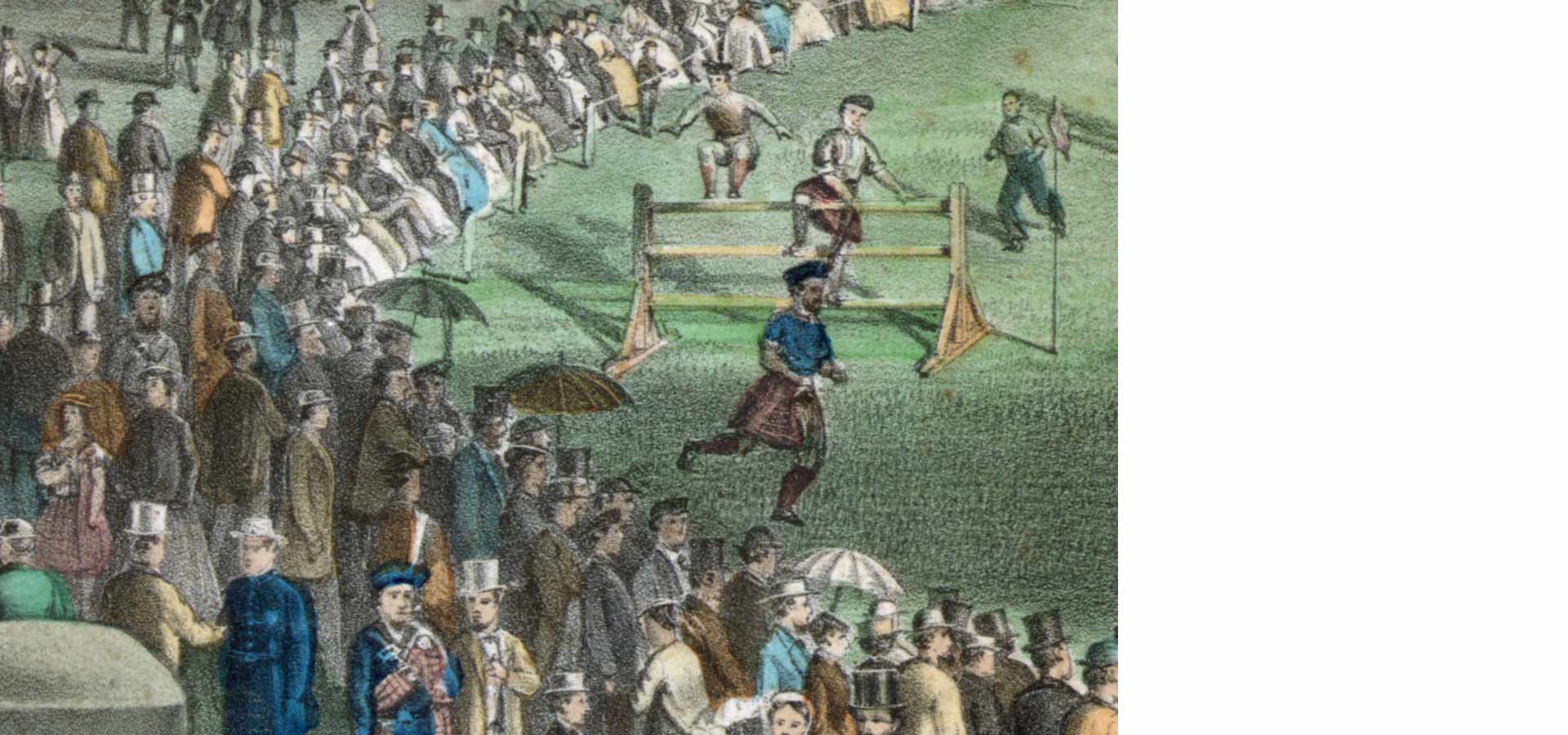 History of The New York Caledonian Club
In 1856, New York City was an urban frontier. This growing merchant city offered many opportunities for fortunes to be made by individuals who understood the complications of the commercial world. To thrive in here, one must be hardworking, resourceful, thrifty, and have a fair amount of luck. It was a harsh environment and not all could succeed.
The wealthy lived in tall brick and brownstone houses, the poor in tenements, and the rising middle class often lived above their business premises. New Yorkers were optimistic about the future and no one could predict the tragedy to come just a few years later, that would threaten the very existence of the Union.
---
Many New Yorkers sought to affiliate themselves with their fellow city dwellers for social reasons – today, we refer to this as "networking". It was soon realized that a social club based on national affinity could be of great value in building a secure future for Scottish immigrants and their descendants. Among them were lawyers, tradesmen, manufacturers, clergymen, printers, merchants, furniture makers, and members of many other trades and professions. Wives often worked alongside their husbands to help them better their families' lives.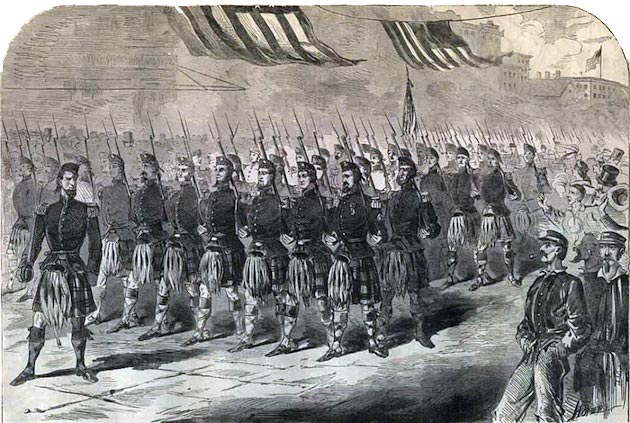 The 79th New York Highland Regiment
The Nation's only kilted Regiment in the Civil War, was recruited largely from the Club's membership. They fought in many battles during the Civil War, including the First Battle of Bull Run in 1861, serving under Colonel James Cameron, whose brother, Simon Cameron, was Lincoln's Secretary of War.
General Ulysses S. Grant, the eighteenth President of the United States, later became an honorary member of the Veteran's Association of the 79th New York Highland Regiment.
Highland Games
Many Scottish ex-pats in New York City sought to find others with whom they celebrate, share, and promote the life and culture of their beloved homeland. Members of the Highland Guard, organized after the War of 1812, founded an early Caledonian Club in 1830, with most of the membership consisting of those who immigrated directly from Scotland, including one of the founders of today's Caledonian Club, Captain William Manson. Manson was from Thurso in Caithness. In 1856, The New York Caledonian Club had its first meeting at his home at 256 Spring Street at the corner of Varick Street - then a neighborhood of fine row houses. The first Chief of the Club was Alexander Fraser, elected in 1857.
The Club held its first Highland Games in 1857, a tradition which continued annually until 1933. Many colleges and universities sent their best athletes to compete in the Games to win coveted prizes. Several members chose curling as their sport, often traveling to competitive curling events in New Jersey.
The New York Caledonian Club flourished in the late 1800s, meeting at various locations, including in downtown Manhattan's Horatio Street.
The Club inaugurated its new home at 846 Seventh Avenue (at 54th Street) in October 1898. The building was built of marble, stone, and brick in a Renaissance style, with clubrooms included a gymnasium, Roman bath, a bowling alley, and storage for the bicycles of "wheelmen" members. There was also a small indoor green for members to sharpen their golf skills. The interior was in the dignified yet warm wood-paneled style, appropriate for a club of that era. Andrew Carnegie, who had donated a library to the Club, was present to dedicate the building, and received a gold key and a warm reception from the members.
Post World War II...
The New York Caledonian Club became inactive, except in the memories of former members and in the Club archives. More contemporary interests had replaced the fellowship ideals of many of the old clubs of New York.
The Club was revived on the June 24th, 1981, a date known as Bannockburn Night in commemoration of the Battle of Bannockburn in 1314 near Stirling Castle. At this battle, the Scots defeated the English forces under the command of Robert the Bruce. The modern Tartan Day also celebrates the Declaration of Arbroath (1320) which asserted Scottish independence. An independent Scotland was finally recognized in 1328 in the Treaty of Northampton, signed by Robert the Bruce and Edward II of England.
New York Caledonian Club Chiefs Timeline
2000s - Current
Patricia Klecanda

2023- Current :: 85th Chief

Lorraine Bell
2019 - 2023 :: 84th Chief
Sue Ann Devitt
2017 - 2019 :: 83rd Chief
Lesley MacLennan Denninger
2009 - 2010, 2016 :: 78th & 82nd Chief
John B. MacDonald
1992-93, 1995-96, 2013 - 2014 :: 67th, 70th & 80th Chief
John Mauk Hilliard
2011 - 2012 :: 79th Chief
George A. Campbell
1994, 1999 - 2000, 2006 - 2007 :: 68th, 72nd & 76th Chief
Andrew Macmillan
2004 - 2005 :: 75th Chief
Christopher Pratt
2002 - 2003 :: 74th Chief
1900 - 1999
Donald C. Ross
1997 - 1998 :: 71st Chief
Bruce L. Martin
1990 - 1991 :: 66th Chief
Brian C. Macdonald
1988 - 1989 :: 65th Chief
Fergus McLarty
1986 - 1987 :: 64th Chief
Crawford Kennedy
1946 - 1949 :: 58th Chief
Daniel Maclean
1942 - 1945, 1946 :: 55th& 57th Chief
James R. Donaldson
1920 - 1921, 1945 :: 43rd & 56th Chief
William Hogg
1940 - 1941 :: 54th Chief
Isaac N. Balmain
1937 - 1939 :: 53rd Chief
Daniel T. Roberts
1935 - 1936 :: 52nd Chief
John B. Duncanson
1932 - 1933 :: 50th Chief
William Vance
1924 - 1925, 1931 :: 45th & 49th Chief
James Hoey
1929 - 1930 :: 48th Chief
George Black
1926 - 1927 :: 46th Chief
Alexander Caldwell
1919, 1922 - 1923 :: 42nd & 44th Chief
James C. Edwards
1918 - 1919 :: 41st Chief
John MacLean
1916 - 1917 :: 40th Chief
Peter F. Gray
1914 - 1915 :: 39th Chief
James W. Taylor
1912 - 1913 :: 38th Chief
James Morrison
1910 - 1911 :: 37th Chief
Robert Foulis
1908 - 1909 :: 36th Chief
Neil MacKay
1906 - 1907 :: 35th Chief
James M. Congalton
1905 - 1906 :: 34th Chief
William G. Reid
1903 - 1904 :: 33rd Chief
John Wood
1901 - 1902 :: 32nd Chief
Andrew Wallace
1899 - 1900 :: 31st Chief
James Robb
1897 - 1898 :: 30th Chief
James H. Cockburn
1895 - 1896 :: 29th Chief
James C. McEachen
1890, 1893 - 1894 :: 25th & 28th Chief
William Hogg
1887 - 1888, 1892 :: 23rd & 27th Chief
Charles G. Nicholson
1878 - 1879, 1885 - 1886 :: 15th & 22nd Chief
Robert Hamilton Sr.
1876 - 1877, 1884 :: 14th & 21st Chief
James West
1881 - 1882 :: 17th Chief
Charles G. Nicholson
1878 - 1879 :: 15th Chief
Robert Hamilton Sr.
1876 - 1877 :: 14th Chief
John Watt
1871 - 1872 :: 10th Chief
George Mitchell
1864 - 1865, 1870 :: 5th & 9th Chief
David McLellan
1860 - 1863, 1866 :: 4th & 6th Chief
Alexander Fraser

1856 - 1st Chief

George Mitchell

1864 - 1865, 1870 : 5th & 9th Chief

John Watt

1871 - 1872 : 10th Chief

John McMillan

1884 - 20th Chief

Andrew Halladay

1889 : 24th Chief

James Robb

1897 - 1898 : 30th Chief

Neil Mackay

1906 - 1907 : 35th Chief

James R. Donaldson

1920 - 21 & 1945 : 43rd & 56th Chief

Nancy London Crutcher

1984 : 62nd Chief

Brian C. Macdonald

1988 - 1989 : 65th Chief

Bruce L. Martin

1990 - 1991 : 66th Chief

James R. Campbell

2001 : 73rd Chief

Christopher Pratt

2002 - 2003 : 74th Chief

George A. Campbell

1994, 1999 - 2000, 2006 - 2007 : 68th, 72nd & 76th Chief

Andrew Macmillan

2004 - 2005, 2008 : 75th & 77th Chief

John Mauk Hilliard

2011 - 2012 : 79th Chief

John B. MacDonald

1992 - 93, 1995 - 96, 2013 - 14 : 67th, 70th & 80th Chief

Lee Harwell

2015 : 81st Chief

Lesley MacLennan Denninger

2016 : 82nd Chief

Sue Ann Mcdevitt

Lorraine Bell

Patricia Klecanda