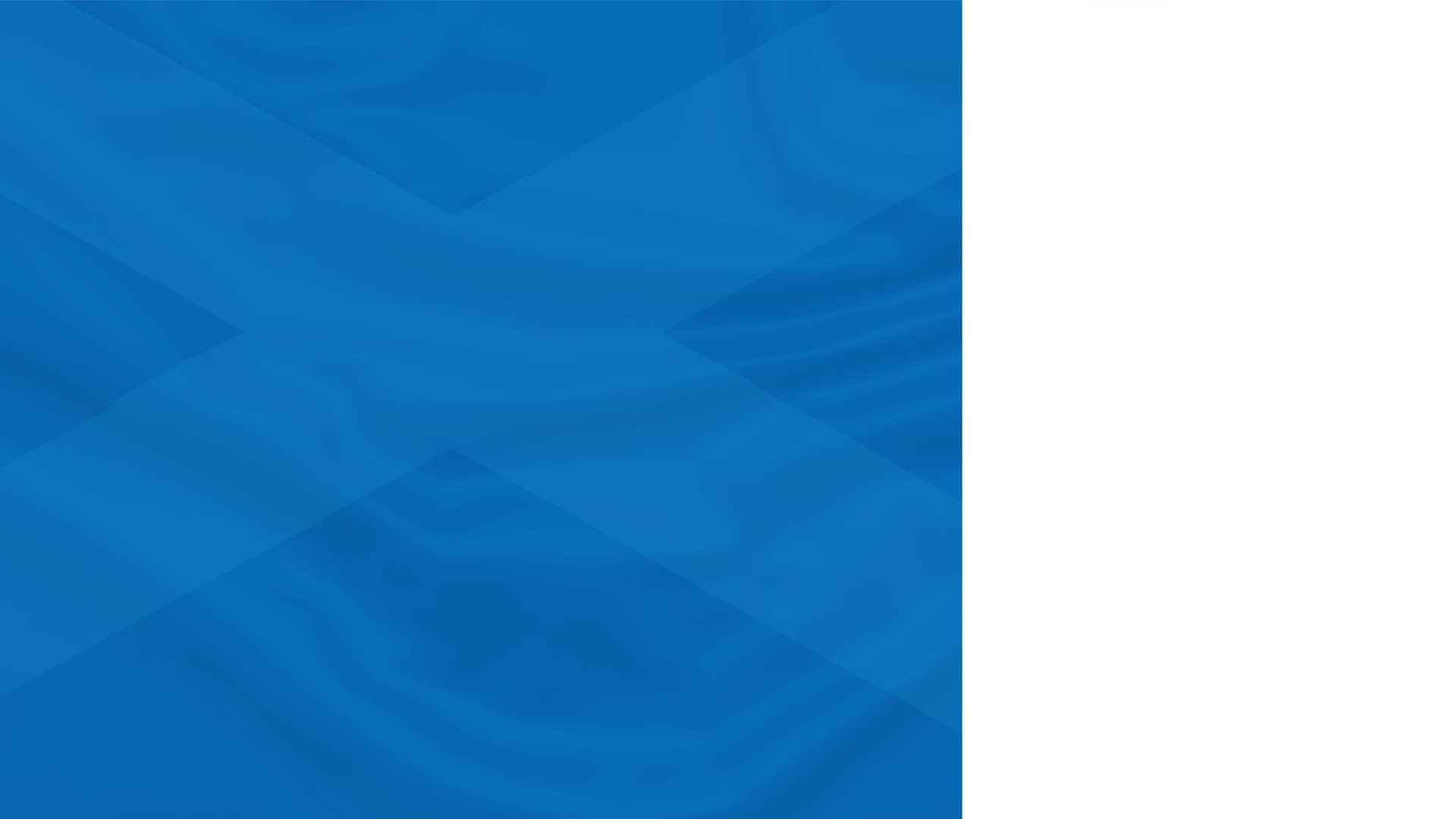 ---
The New York Caledonian Club remembers friends and members we have lost...

Jim Campbell
---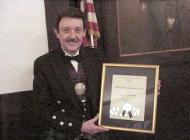 James R. Campbell
FEBRUARY 9, 2007
In Memory of our 73rd Chief
Dear Members and Friends,
It is with great sadness that I must inform you of the death of Jim Campbell at his home on February 9, 2007. Jim served the Club faithfully and diligently as the 73rd Chief, and as Chieftain, Director, and Ambassador. As a former Chief Jim was an Honorary member of the "Veteran's Association of the 79th New York Highland Regiment." Jim was also Trustee of the Clan Campbell Education Foundation and Finance Committee Chairman of the Clan Campbell Society of North America. In addition, he was an active member of the St. Andrew's Society of the State of New York and various other Scottish organizations. Jim was actively involved in New York Tartan Week, and had been recently elected the Chairman of the National Tartan Day New York Committee.
Jim Campbell was Vice President of Administration at MTA Long Island Bus, Garden City, New York. He joined the nation's largest transportation organization in November 1988, after previously working as a corporate human resources director in Fortune 100 companies.
He held a Bachelor of Science degree from the University of Houston, attended Graduate School at Case Western Reserve University and studied at the Yale School of Organization and Management. He held the highest level of professional accreditation through the Society of Human Resources management. Jim was a recipient of several community service awards and is of biographical reference in Marquis' Who's Who in America. Jim was also a veteran of the U.S. Air Force, active in several professional organizations and a member of the Cathedral Church of St. John the Divine in New York City.
Jim will be fondly remembered by all of us as a gentleman of great tact, diplomacy, graciousness, warmth, and vision. We will miss him greatly in the years to come. A traditional Scottish memorial service will be held at the Cathedral of St. John the Divine. We will post details about the service as soon as they are made final. All are welcome to attend and honour Jim's life, dedication and friendship.
Sincerely,
George A. Campbell
76th Chief
New York Caledonian Club

New York Deputy Commissioner - New York City
Clan Campbell Society of North America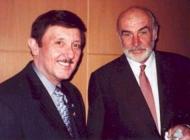 Andrew MacMillan
---

Andrew Macmillan
OCTOBER 28, 2016
It is with profound sadness that the New York Caledonian Club announces the death of Andrew Macmillan. Andrew served as our 75th and 77th Chief. He will be sorely missed.
An outstanding member of the Scottish American community, Andrew was a past President of the National Tartan Day New York Committee and a founding member of the New York Tartan Day Parade Committee.
Our condolences to Andrew's wife Kitty, and to all of his family.
Arrangements will be posted as soon as details are finalized

Margaret Daly
---

Margaret Daly
DECEMBER 4, 2006
In Memory of our 69th Chief
Margaret Daly was the Chieftain under George Campbell 1994-1995, and took over as Chief to fill out George's term.
A Memorial Service for Margaret was held at Christ and St. Stephen's Episcopal Church, New York City on Wednesday December 13th.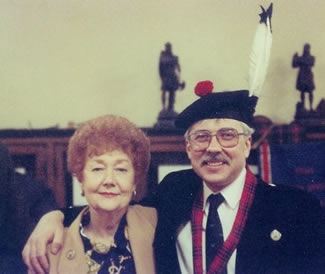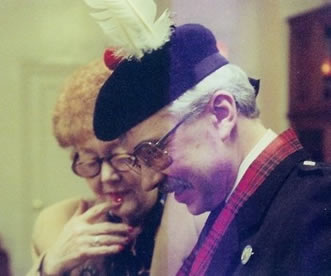 Chieftain Margaret Daly with Chief George Campbell, in 1994

Sheila Wilson
---

Sheila Wilson
JANUARY 19, 2018
The New York Caledonian Club is very sad to announce that Sheila Wilson died on January 19th after a very quick downturn in her health.
Sheila was one of the driving forces in the restoration of the Club in the 1980's, and was at the time of her death, the most senior member, having been with the Club for more than 30 years.
Sheila was also very active in the dance community in New York.
The Memorial Service for Sheila Wilson was held on Saturday, February 14th at 2:30 at Saint Bartholomew's Episcopal Church, 325 Park Avenue, New York City.

Elizabeth Maysilles
---

Elizabeth Maysilles
NOVEMBER 12, 2014
The New York Caledonian Club is saddened to hear that Elizabeth Maysilles passed away on Election Day, November 12, 2014.
Elizabeth was a member of the Club for almost 25 years. She always brought a sense of quiet dignity with her.
Elizabeth served the Club as Chieftain in 2001-2001, and served several terms on the Board of Directors.
She will be greatly missed...

Sheila Burton
---

Sheila Burton
OCTOBER 12, 2013
It is with deep regret that the New York Caledonian Club announces the passing, on October 12, 2013, of long-time member and Director, Sheila Burton.
Sheila died at New York Hospital, while undergoing treatment for a brain tumor.
There was a service for Sheila on Saturday, October 19 at Immanuel Lutheran Church, 122 E 88th St., New York.
There was a viewing in the church at noon. The service was at 1 pm and was followed by a reception in the undercroft. On Monday, October 21 there was a Committal service for Sheila at 10:00 am at Maple Grove Cemetery, 83-15 Kew Gardens Road, Kew Gardens, Queens, NY.

Priscilla Campbell
---

Priscilla Campbell
FEBRUARY 7, 2013
It is with our deepest regret that we announce the passing of our club member Priscilla Campbell.
Priscilla was a member of the Caledonian Club for almost 20 years. She served the Club as Director, Secretary and Treasurer. She died at home, with George, on February 6, after a long fight with cancer.
Our deepest sympathies go out to George Campbell, The Club will sorely miss her. A Memorial Service for Priscilla was held on April 13, 2013 at the West End Presbyterian Church.
Dear Ones,
We love Priscilla Campbell (George too) and will miss her good natured humor, her sweet piping, and humble Spirit. She was selfless in service to the NY Caledonian Club and it's Missions. New York City will miss her. We imagine she has already been Piped in through Heaven's Gates. Memorial Day and the Ceremony at the Soldiers' and Sailors' Monument in New York City will be different with her absence. Over the past few years, people who attended the Ceremony would ask "Where is that Red Headed Lassie Piper?" They remembered Priscilla, as you could see her from far away long before they would march up through monument's Plaza.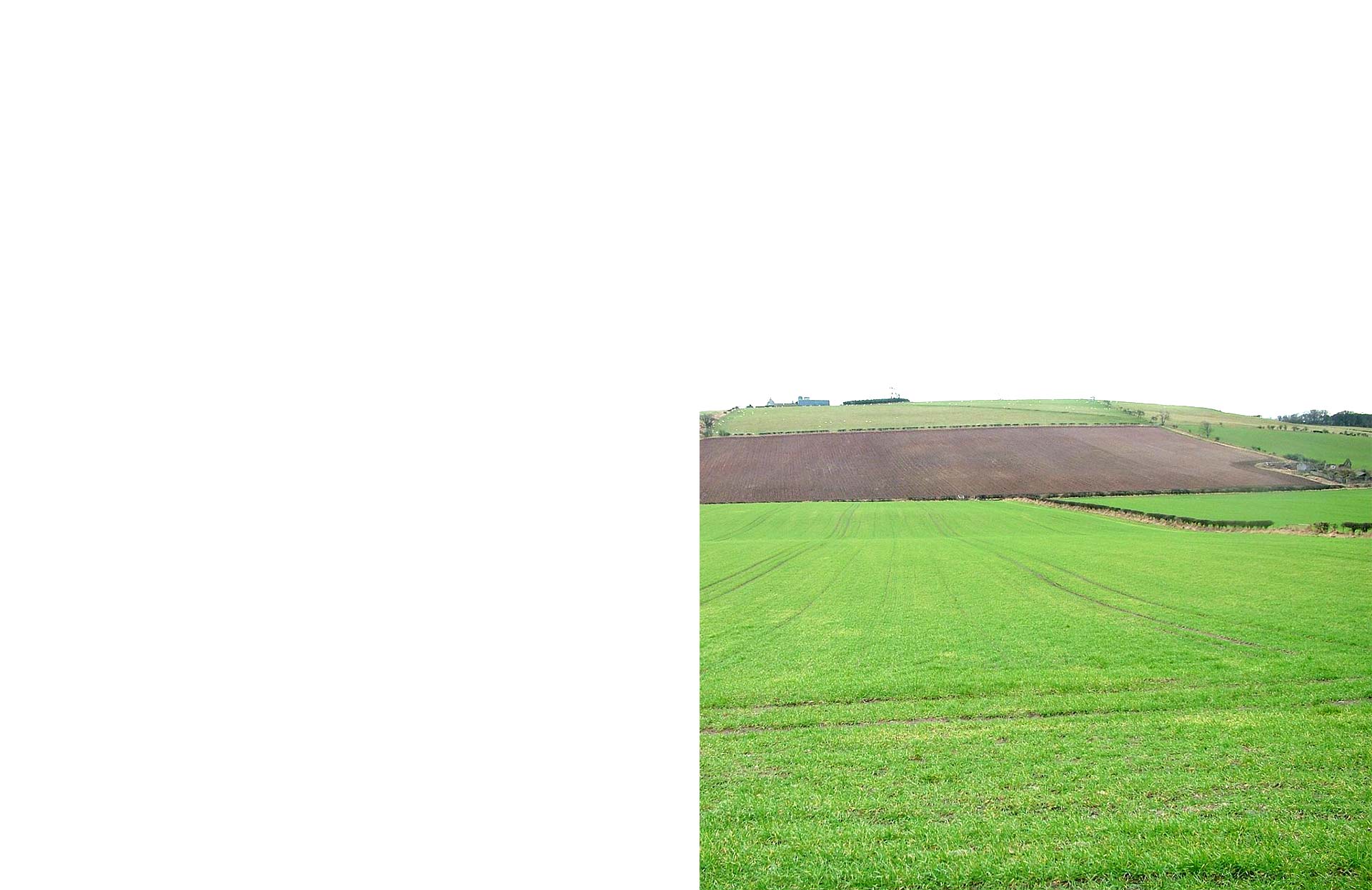 The Flowers of the Forest
I've heard the lilting, at the yowe-milking,
Lasses a-lilting before dawn o' day; But now they are moaning on ilka green loaning; "The Flowers of the Forest are a' wede away".
As buchts, in the morning, nae blythe lads are scorning; The lasses are lonely and dowie and wae.
Nae daffin', nae gabbin', but sighing and sobbing,
Ilk ane lifts her leglen, and hies her away.
In hairst, at the shearing, nae youths now are jeering,
The Bandsters are lyart, and runkled and grey.
At fair or at preaching, nae wooing, nae fleeching,
The Flowers of the Forest are a' wede away.
At e'en, in the gloaming, nae swankies are roaming,
'Bout stacks wi' the lasses at bogle to play.
But ilk ane sits drearie, lamenting her dearie,
The Flowers of the Forest are a' wede away.
Dule and wae for the order sent our lads to the Border; The English, for ance, by guile wan the day:
The Flowers of the Forest, that foucht aye the foremost, The prime o' our land are cauld in the clay.
We'll hae nae mair lilting, at the yowe-milking,
Women and bairns are dowie and wae.
Sighing and moaning, on ilka green loaning,
The Flowers of the Forest are a' wede away.
Wanna help? We accept volunteers...
Whether you are an accountant, a cook, a graphic artist or just willing to help clean up after an event, we would love to have you!